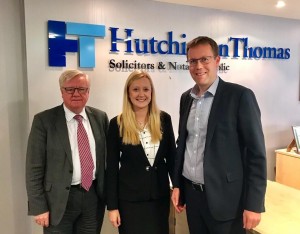 Former secretary at Hutchinson Thomas, Kiani Eccleston, has recently been promoted to trainee solicitor, following her commitment to excel and progress in her career.
Kiani started as a secretary for Hutchinson Thomas, a law firm with offices based in Swansea and Neath in January 2018, working her way up to recently securing a trainee solicitor contract with the firm.
Kiani graduated from Swansea University with an LLB Law degree in 2017 and has recently completed her LPC which has enabled her to obtain a training contract with the firm to progress in her career within the law industry.
The company, which has a reputation for providing its clients with the highest quality legal representation in its various specialist fields, prides itself on ensuring it supports its staff members throughout their career with Hutchinson Thomas to progress to the level they desire and have worked towards.
Robert Williams, senior partner at Hutchinson Thomas, said:
"It is great to see Kiani move on to the next step of her career with us here at Hutchinson Thomas. Her dedication to progressing within the company is admirable and her hard work and dedication to every role she undertakes does not go unnoticed.
"We are excited to see Kiani progress with the company, and indeed the industry to embark on a career she is passionate about. Kiani is an asset to Hutchinson Thomas and giving her the opportunity to become trainee solicitor was an obvious decision for us as a team.
"We are confident that Kiani's enthusiasm and dedication will see her flourish into becoming a solicitor, and we are looking forward to watching Kiani's career progress."
Kiani Eccleston, trainee solicitor at Hutchinson Thomas, comments:
"I am incredibly grateful to Hutchinson Thomas for seeing the potential in me and allowing me to progress to trainee solicitor with the firm. I have enjoyed working with Mr Williams and he has helped me with my goal of becoming a solicitor – and now I am well and truly on the path to becoming one, thanks to this training contract."