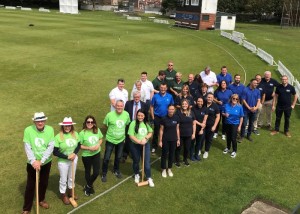 A croquet tournament organised by law firm Hutchinson Thomas took place on Friday 14 June at Neath Cricket Club to raise money for Welsh children's hospice, Tŷ Hafan.
Businesses from Neath and Swansea including Willis Legal and Swansea Building Society participated in the inaugural croquet day. 10 teams competed in the event with Rowland Jones winning the tournament.
Each team provided a donation to Tŷ Hafan, with a total of £10,000 being raised throughout the year for the charity, and a cheque being presented to Tŷ Hafan's corporate partnership manager, Natalie Whyatt, at the event.
Tŷ Hafan is one of the UK's leading paediatric palliative care charities and offers care to children and support for their families throughout Wales. Tŷ Hafan is Hutchinson Thomas' principal charity and has supported the organisation for the past five years.
Darren Davies, partner at Hutchinson Thomas, said:
"This event was a fantastic opportunity to bring local businesses together to enjoy a day of fun and networking, all while raising money for such an incredibly important cause as Tŷ Hafan. We would like to thank everyone who took part in the day and for their generosity in supporting Tŷ Hafan and the admired work the charity does."
Natalie Whyatt, corporate partnership manager at Ty Hafan, added:
"The support that Hutchinson Thomas Solicitors has given us over the past five years has been incredible. With the £10,000 donation following the croquet day, the team has now donated a total of £50,000 to Tŷ Hafan — all going towards providing vital lifeline services to the children and families who need it most.
"It's the generosity and fundraising efforts of local businesses and individuals that make all of the difference; making short lives into full lives."