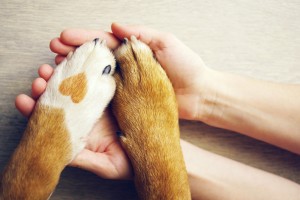 The Law Society is recommending that couples sign a "pet nup" to provide peace of mind over who will get custody of their pets if they divorce.
A type of pre-nuptial agreement, the pet nup is becoming increasingly popular. Family lawyers say that in the last three years, there has been a 24 per cent increase in requests for them to draw up pre-nuptial agreements involving custody or care of pets.
This is a sensible thing to do: painful battles over pets are very common among divorcing couples. Research from Direct Line Pet Insurance released earlier this year revealed that 28,530 of 111,089 divorce cases in the last year involved custody of a pet, equating to some 90 disputes each day.
Pets are often seen as one of the most important aspects of a divorce settlement. According to Direct Line, in most divorce cases where a pet is involved, they are prioritised over access to pension funds (88 per cent), while in nearly a third of cases (30 per cent), pets are prioritised over rights to savings and investments. In one in eight cases (12 per cent) they are fought over more keenly than over custody rights to the children.
The strength of feeling that couples have over their pets has been demonstrated by some high-profile separations in recent years. When actors Johnny Depp and Amber Heard separated in 2017, they became embroiled in lengthy negotiations over the custody of their horse and two Yorkshire terriers – and TV presenter Ant McPartlin has been tussling with his ex-wife Lisa Armstrong over their Labrador Hurley.
Besides saving you a headache, a pet nup could also protect your pet's health. Direct Line found that one in seven owners believe their pet's health has been negatively affected by the breakdown of a relationship.
Robert Williams, partner at Hutchinson Thomas said:
"Like the lawyers surveyed by Direct Line, we have seen an increase in the number of people wanting to address custody of pets in their pre-nuptial agreements. This is a very wise move. While nobody particularly wants to think about divorce on the eve of their wedding, reaching agreements on key issues such as where the pets will live can save a lot of costly and painful negotiation in the event of a separation."
For more information on divorce law, contact Robert Williams on 01639 640164 or email robert.williams@hutchinsonthomas.com