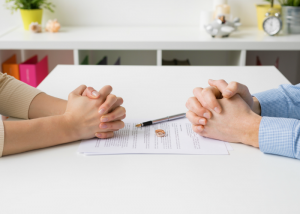 Christmas is supposed to be a joyful time when families come together and enjoy each other's company. However, being forced to spend so much time together while also trying to organise festivities can become unbearably stressful.
For some couples, the experience of Christmas spent together drives one or both them to seek divorce advice at the earliest possible opportunity. That's where Divorce Day comes in.
Divorce Day refers to the first Monday after Christmas when solicitors are back at work and receive a deluge of enquiries from people keen to divorce. For 2020, Divorce Day falls on January 6.
According to support service Amicable, more than 40,500 people will search for the word "divorce" online in January – a figure 25 percent higher than at any other time of the year. The figure peaks on Divorce Day.
Relationship charity Relate reports a similar pattern: it receives a spike in calls in January as family tensions over the Christmas period come to a head.
The divorce rate in the UK is highest for men aged 45-49 and women aged 40-44, which may be because this is the age at which many couples' children leave home and the parents find themselves asking whether they want to spend the rest of their lives together.
Robert Williams, Senior Partner at Hutchinson Thomas said:
"It's true that solicitors do see a rise in divorce enquiries in early January – us included. The intensity of the Christmas period turns out to be the final straw for some couples, and with the start of a New Year, they reassess their lives together.
"When marriages break down, there are many issues that need to be resolved. Our approach is to be proactive in helping clients through a difficult time. We aim to achieve a timely and cost-effective outcome that is sympathetic to the individual client's needs.
"Cost is often a major concern for couples going through divorce, and Government budget cuts mean that fewer people will now qualify for Legal Aid. That's why we offer a range of schemes so that you can control what you do yourself, what we do to assist you, and how much you pay. These options include Legal Assistance, which is a cost-effective route to take if your divorce is uncontested and you are comfortable dealing with the court and your spouse or their solicitor.
"I would add, however, that for some couples, talking about the issues that have brought them to this point may pave the way to reconciliation."