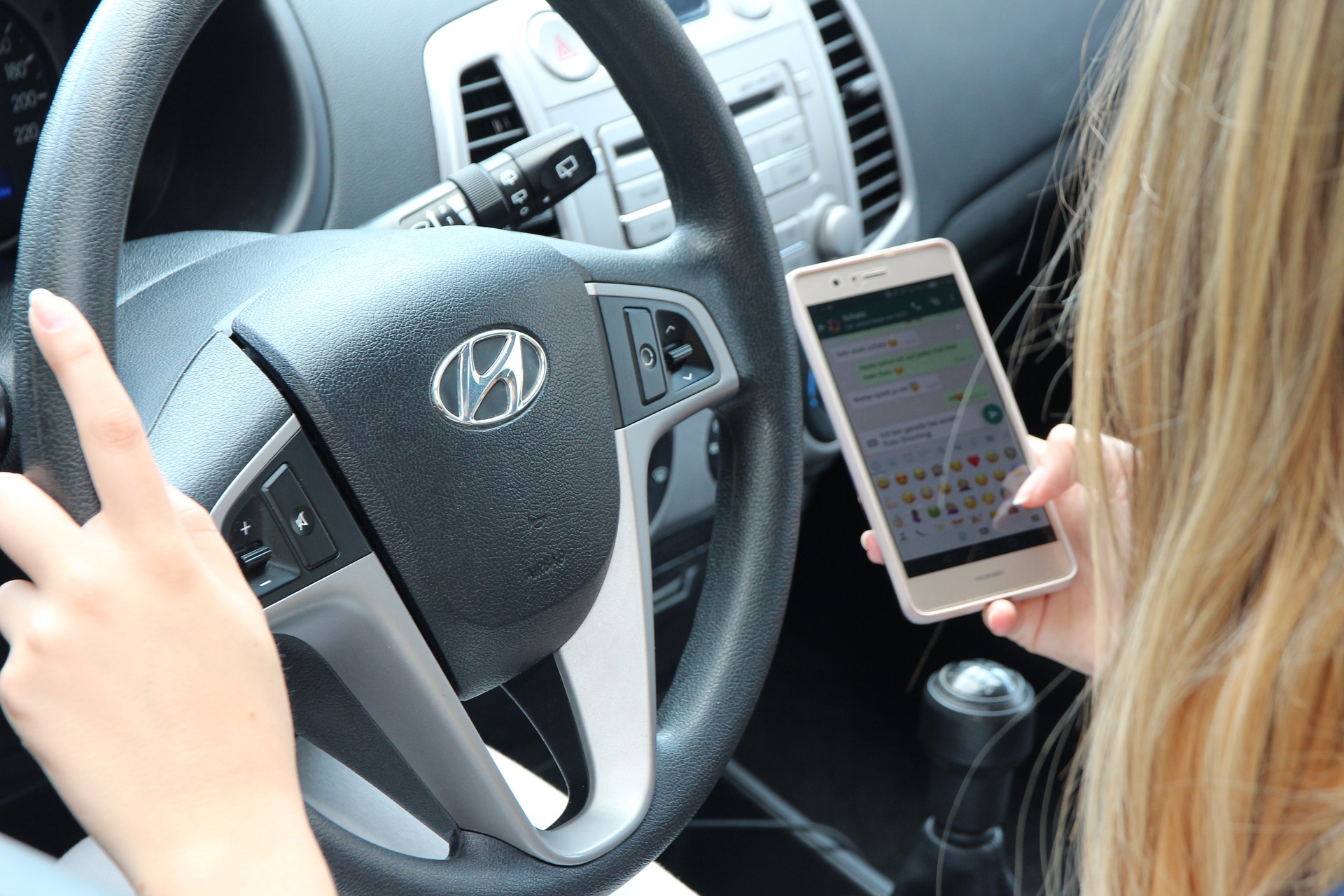 The law surrounding mobile phone use while driving is being updated and extended from 2022, in order to close existing loopholes and make it easier to prosecute drivers holding their phones at the wheel.
Since December 2003, UK law has banned drivers from using their hand-held mobile phones for communication purposes – i.e., making or answering phone calls or texting. The rules have now been extended to discourage drivers from holding their phones for any reason, with one exception: to make an emergency 999 or 112 call, but only if stopping the vehicle to make the call is not a safe option.
The new extension follows a landmark case in 2019 when a driver used a loophole in the current law to overturn a charge for using his mobile phone when driving. This was done by stating that as he wasn't using the device for communication purposes – he was actually filming a crash – he was not breaking the law.
The new rules mean drivers will not be allowed to take photos or videos, use apps, scroll through playlists, or play games on their phones when driving or when supervising a learner driver.
When can you use a phone?
In order to use your phone for communication purposes you must have hands-free access, and any hands-free device should be set up before you drive so that you can take calls without handling the device to do so.
However, it is an interesting point that in an August 2019 report, the Commons Transport Committee put forward a case for also banning the use of hands-free kits. The report suggested that using hands-free technology carries the same risk of collision as a hand-held phone.
The government has stated that there are currently no plans to introduce a ban on hands-free devices, but police still have the power to stop you if they believe you have been distracted by using a mobile device while driving, even when using it completely hands-free.
This could result in a charge of driving without due care and attention, which can actually come with a higher penalty than that of handling a phone.
Under the newly extended rules, it will only be legal to hold your mobile phone for any reason if you are parked safely and the engine is turned off. This does not include waiting in stationary traffic or at traffic lights, even if your engine cuts off automatically under a stop-start fuel-saving system.
However, as has been stated previously, the law does include an exemption for emergencies, allowing drivers to make a 999 or 112 call on a hand-held device while driving, but only if it's not otherwise safe to stop.
What about using your phone as a sat-nav?
Though you can use your mobile phone's apps for navigation purposes, it is illegal to pick up or handle your phone for this reason whilst driving.
If you do use your phone for directions, you should attach the phone to a secure fixture on the windscreen or dashboard, so that you have a clear view of it while driving and it does not obstruct your view of the road. You should never be required to hold or interact with it whilst the engine is running.
What happens if I'm caught?
The penalty for being caught using a mobile phone handset illegally is six points on your licence and a £200 fixed penalty fine.
Six points might not sound like a lot to some, but if a new driver – one who has held a licence for less than two years – is caught using a hand-held device behind the wheel, they will lose their licence. This is because drivers are only allowed to clock up six penalty points in their first two years of driving.
Motorists who have been driving for more than two years can lose their licence if they receive 12 points in a three-year period. This means that just two mobile phone incidents within this period could see them disqualified from driving.
It should also be noted that this is the minimum penalty. If the police feel it is an extreme example of using a mobile phone behind the wheel, the driver could be taken to court where there is a maximum fine of £2,000, and guilty drivers could face automatic disqualification.
If the incident has been deemed to have caused a serious accident, then even tougher penalties will be incurred. You should be advised that the government is currently considering increasing the penalty for causing death by dangerous or careless driving from 14 years to life imprisonment.
A recent analysis by the Department of Transport showed that 17 people were killed and 114 seriously injured on Britain's roads last year in crashes involving drivers distracted by mobile phones. Statistics like these support a general consensus with the UK public to stiffen the penalties given to those found using mobile phones while driving.
For enquiries and advice on a wide range of legal matters, contact Darren Davies on 01792 439000 or email  darren.davies@hutchinsonthomas.com