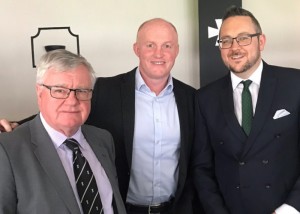 Businesses from Neath Port Talbot raised more than £3,000 for Welsh children's hospice Tŷ Hafan at an annual lunch organised by law firm Hutchinson Thomas and the Neath round table.
The event, which took place in Neath Rugby Club on Friday April 12, featured rugby legend Martyn Williams as the keynote speaker, who regaled the room with behind the scene tales from his prestigious playing career.
Tŷ Hafan is one of the UK's leading paediatric palliative care charities and offers care to children and support for their families throughout Wales. At the event, Natalie Whyatt, corporate partnership manager at Tŷ Hafan, gave a moving presentation around the work being done at the charity, including explaining a new project whereby children's lives are remembered through specially recorded bird songs played in the hospice's grounds.
The £3,000 was raised through a mixture of donations on the day, an auction and raffle. Notable local businesses including Willis Legal, Low Cost Vans and Swansea Building Society, all attended the event helping to raise the funds.
Darren Davies, past chairman of the Neath round table and a partner at Hutchinson Thomas, said:
"This annual event has gone from strength to strength. We are again delighted with the support we have received from local businesses and the amount raised for this fantastic cause."
Natalie Whyatt, corporate partnership manager at Tŷ Hafan, added:
"We are so grateful to everyone who donated at the event and contributed to the incredible £3,000 for Tŷ Hafan. We simply couldn't provide our lifeline services to the families that need them so much without fabulous fundraising efforts like these and the generosity of local businesses and individuals."