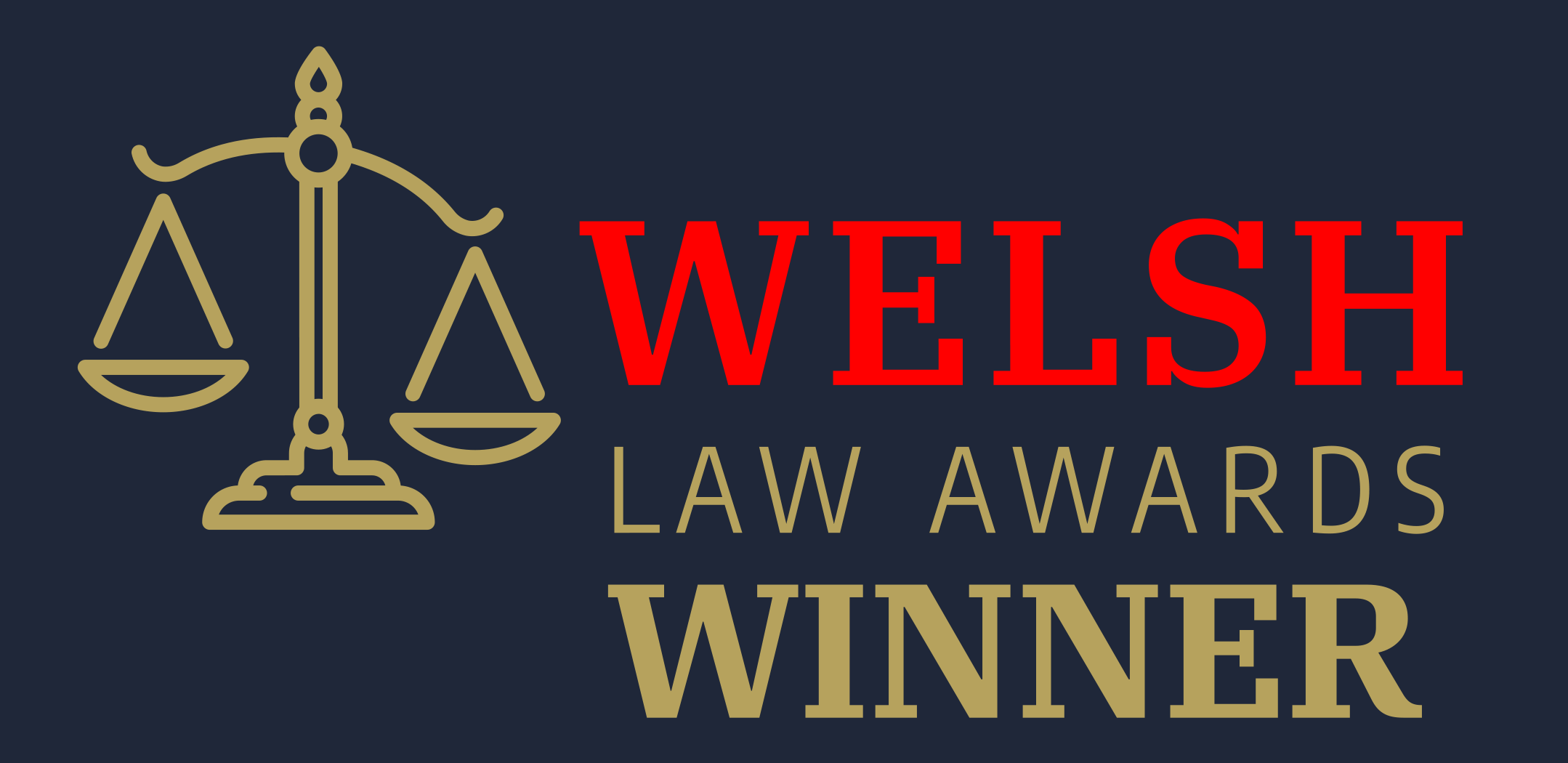 We are thrilled to announce that our Family Law Department has won the Family Law Services of the Year category at the Welsh Law Awards 2023. The prestigious event took place at a gala dinner on May 10th, 2023, at the Hilton Hotel in Cardiff, and was hosted by popular Welsh TV and radio presenter, Sara Edwards.
This achievement is a result of the hard work and dedication of our entire team, and we are immensely proud of their accomplishments.
Winning this award is a testament to the extensive experience and expertise of our Family Law team in handling various family law matters, such as divorce, separation, financial settlements, child custody, domestic violence and child law private law matters (including where a child lives and who they spend time with). Our compassionate and client-focused approach has earned us an enviable reputation among our clients and peers alike. We have a proven track record of successfully navigating the complexities of family law, including the most serious of child protection and public child law cases. We are delighted that this has been recognised by the Welsh Law Awards.
The Welsh Law Awards 2023 celebrates excellence in the legal profession in Wales, recognising the outstanding achievements of individuals, teams, and firms across a range of categories. The Family Law Services of the Year category recognises firms that have demonstrated exceptional service and expertise in family law, providing advice and guidance to clients in a sensitive and compassionate manner.
Founder of the Welsh Law Awards, Wesley Skene, said:
"2023's Welsh Law Awards has been a year like no other. The standard of nominees and winners has surpassed anything we have seen before. What makes the evening so special is the opportunity to meet the people and the organisations that work tirelessly each day to support and change Wales for the better."
Winning this prestigious award is a great honour, and it is a testament to our commitment to delivering the highest standards of service to our clients. Our team's aim is to combine professional expertise with a caring approach, ensuring that clients receive the highest standard of service, tailored to their individual needs.
The evening was also an opportunity to raise funds for Dreams and Wishes. A charity that does such great work and is dedicated to helping seriously ill children by making their dreams and wishes come true. £650 was raised on the night.
Our Senior Partner, Robert Williams, expressed his joy at the department's success:
"We are immensely proud of our Family Law Department for winning the Family Law Services of the Year category in the Welsh Law Awards 2023. It is a testament to the hard work and dedication of our entire team, who are committed to providing the highest level of service to our clients. We will continue to strive for excellence in the field of family law and look forward to providing our clients with the support and guidance they need during what can be a difficult time in their lives."