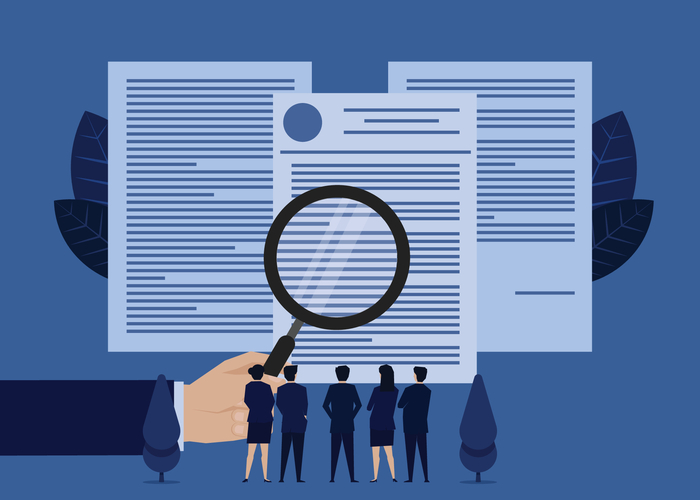 Whatever kind of business you are running, it's important to make sure your terms and conditions are up to date, and you get your customers to agree to them, writes Darren Davies at Hutchinson Thomas.
A business's terms and conditions (T&Cs) are a legally binding contract between a business and its clients and customers. So, whether your business sells its goods or services solely from a premises, online or both, it's important to remember that your customers must always be advised at the earliest possible opportunity about what your terms and conditions are, as well as whether any changes have been made which will affect the contract between your business and the consumer.
Terms and conditions are put in place to regulate your business relationship and get rid of any grey areas or false expectations. T&Cs do not need to be written in complicated legal jargon; in fact, the opposite is true: they should be laid out in clear, succinct language that is easy to understand. Complicated T&Cs will not go down well with your local trading standards officer and if you find yourself in a legal wrangle, complicated T&Cs may be deemed a grey area. When we write T&Cs for our clients, we use plain language that leaves no room for misunderstandings; so, whether you have a new or established business, now might be a perfect opportunity to have your existing T&Cs reviewed and updated.
The whole point of laying out your terms and conditions is to define exactly what is being agreed between you and your customer. That means they should explain the terms on which you are accepting their business, set out your business procedures, limit your liability and protect your rights. They should be explained clearly to all your business's employees, so that they are able to fulfil the contract with the consumer without recourse to legal advice and/or senior employees. It's also important to remember that the customer has rights too, and you must be fully aware of these before stating your own terms and conditions, to avoid conflict further down the line.
Here are some of the key things we include when we are drawing up terms and conditions – and why they matter:
What you are selling
It's important to define exactly what you are selling (product or service), so that nobody can later claim they were misled.
The terms of sale
We always lay out the terms under which products can be purchased, stipulating any restrictions such as the age of the buyer. This is important in order to ensure you are not held responsible for supplying goods to someone you should not legally be selling to. We'll also lay out what will happen in the event of it being impossible to supply a product, so that there is no room for uncertainty or misunderstandings.
The price
If you provide an ongoing service or subscription that may go up in price over time, we'll make this clear in your T&Cs and make provision for clients to terminate the contract when prices increase if they are not happy with the increase.
Also, bear in mind that your prices will probably change from time to time. It is therefore important to incorporate this into your terms and conditions.
Your terms of payment
In this section we'll set out the method and timing of payment you are happy with. For example, which credit cards will you accept? If you're providing an ongoing service, we can add terms and conditions relating to late payments and defaulted payments. We'll say what you will do under these circumstances, and more generally, we'll outline how you will deal with payment disputes.
Shipping and delivery of goods
We'll state your delivery promises, including how long after the order is placed you'll ship the goods, how long delivery is expected to take, and between what hours the goods will be delivered. Again, this is important to ensure there are no misunderstandings.
Termination provisions
Where relevant, we'll define how much notice of cancellation is required – for example, if you are providing an ongoing service by subscription.
Returns and refunds
We'll outline your returns and refunds process. As has been said, consumers have rights too, which cannot be ignored, and these can differ from territory to territory, so, we will make sure you comply with Government rules.
Limitation of liabilities
This is an important section because it limits what you will be liable to pay the client if your goods or services fail, for example by being defective or if you do not supply what was advertised. We'll lay out what you will not be responsible for – such as damage to products or injury caused to the customer by the products.
Protection for your business
Here we'll include a confidentiality clause and provisions to protect your intellectual property. An intellectual property clause states your ownership of your brands or trademarks to ensure they are not misused in any way by.
Indemnity by your client
We'll draft a statement that sets out the circumstances under which your client would be liable to repay you for your losses and/or expenses.
Data protection and privacy
We'll explain how you comply with The Data Protection Act, what data you hold and why.
External links and third parties
If your business has a website which contains links to other sites, we'll include a statement that these sites are outside your control and accessed at the customer's own risk. The same may apply to some third parties involved with the purchase of goods or services, and a similar statement exonerating your business from any issues incurred from their actions can be included.
Loyalty programmes
If you offer promotional deals or loyalty schemes, we'll lay out some details about how these work.
Assignment of the benefit of the agreement
These provisions are very important if someone buys your client, or your business, or if you transfer the obligation to fulfil your contract on to someone else. We'll lay out what would happen regarding your agreement with the client under these circumstances.
Dispute resolution
Just in case anything does go wrong… we'll say how you will deal with it.
Terms of use
Here we'll set out the terms for using your services and/or website, covering points such as privacy and prohibited use of the website or premises.
The above is a quick introduction and not an exhaustive guide and there may be some differences depending on whether you deal business to business or business to consumer. What we put in your T&Cs will be specific to your business. That's why it's important not to copy someone else's T&Cs: no two businesses are identical and what works for one business might not be suitable for yours. There is no substitute for expert legal advice when setting out your T&Cs.
Our legal knowledge means that when we're drawing up your T&Cs, we'll take into account statutory rights and consumer protection. Some consumer rights are non-negotiable: they
have been set out by the government and you can't make your own rules up. We can make sure your T&Cs are consistent with consumer rights.
Whatever your business, we're here to help you get the legalities right. Get in touch today to see how we can help you.
For more information, contact Darren Davies on 01639 640164 or email darren.davies@hutchinsonthomas.com