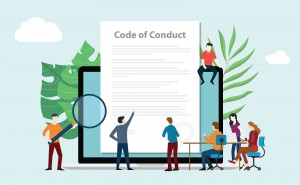 Are CEOs subject to employee codes of conduct?
A recent Tribunal decision confirmed that this is the case, even in large, multi-national organisations.
After being asked to resign for failing to follow the company's conduct guidelines, Mike Shearwood, former CEO of shoemaker Clarks, recently brought a claim for unfair dismissal, alleging he was effectively fired over whistleblowing threats.
The Tribunal heard evidence that Shearwood's dismissal was nothing to do with threats to expose financial information to shareholders, and that this information was already in the public domain and could be easily accessed anyway.
Evidence was given that showed that the Board had concerns over Shearwood's conduct and language in the course of his work, which had been brought to their attention.  This included him describing a client as a "f***ing faggot", saying another employee was "hot" and talking about "violent blacks".  Many of these incidents had occurred in the US, and a senior employee testified that "a large portion of the region had been exposed to his inappropriate behaviour".
The Tribunal also heard that his conduct had been such that two female employees had indicated that they would consider leaving the company if Shearwood had remained in post.
Judge Derek Reed said he was satisfied that "very serious allegations" were made against Shearwood.  He continued:
"It's obvious why the respondent regarded these matters as serious.
"Mr Shearwood was the Chief Executive and these allegations had occurred in America and they were clearly concerned about the prospect of damaging the company's position in the US… they were also concerned about the possibility of employees leaving if these matters were not resolved.
"It seems to us that it is overwhelmingly likely the real reason for Mr Shearwood's dismissal was the contents of the report into the allegations.
"In other words, the reason for his dismissal was not as he asserted because he had made protected disclosures."
A Clarks spokesperson said:
"Clarks welcomes the tribunal's ruling and the rejection of Mr Shearwood's claims. It has always been Clarks' belief the allegations raised by Mr Shearwood were unfounded. With the tribunal ruling as it has, we hope this matter will now remain closed.
"We stand by our decision in relation to Mr Shearwood's departure and are pleased to see the tribunal rule in our favour. We made it clear at the time of Mr Shearwood's resignation that we would make no further comment on the particulars of his conduct and intend to maintain that stance.
"Clarks was founded on principles of integrity, equality, and community almost 200 years ago, and these values continue to underpin everything we do as a business."
Simon Thomas, partner specialising in employment law at Hutchinson Thomas, commented:
"Of course, employment lawyers would have always argued that every employee of the company, from the part-time cleaner to the CEO, has to abide by the company's policies, including code of conduct.  However, knowing this often fails to reassure employees who can be afraid to challenge or report inappropriate conduct by senior executives under the company's grievance procedure.
"We hope that this decision sends out a long-overdue signal to employees that they do not have to tolerate unacceptable behaviour in the workplace, as well as confirming to executives that company codes of conduct apply to everyone, irrespective of rank.  It's certainly a decision that employment law experts have welcomed."
For more information on employment law matters, contact Simon Thomas on 01639 640164 or email simon.thomas@hutchinsonthomas.com