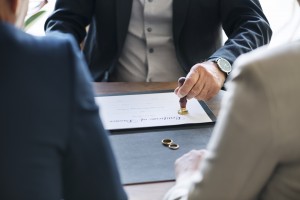 It has been announced that divorce laws in England and Wales are to be reformed to enable couples to separate with less delay and animosity with the introduction of 'no fault' divorces.
Currently when seeking a divorce, there must be evidence of at least one of five 'facts'. These are: adultery; unreasonable behaviour; desertion; two years' separation (if the other spouse agrees to the divorce); or five years' separation (if the other spouse disagrees to the divorce).
However, the reforms will mean in future, couples will not have to prove fault to get divorced, thus eliminating the current need for placing blame. It has been proposed that a requirement to provide a statement of irretrievable breakdown will replace the need to evidence a 'fact'. Also, the ability of one spouse to refuse or challenge the divorce will be removed.
The new legislation will include a minimum timeframe of six months from petition stage to final divorce to allow couples to reflect on their decision. It will also allow couples to apply for a divorce jointly.
The call for reforms gained momentum following a court ruling in July 2018 (Owens V Owens), which saw a woman lose her Supreme Court appeal to divorce her husband of 40 years based on his unreasonable behaviour. The husband would not consent to the divorce and successfully defended the divorce proceedings, meaning his wife had to remain married to him.
Robert Williams, senior partner at Hutchinson Thomas, commented:
"As the law stands, having to provide evidence of a spouse's unreasonable behaviour, for example, can be very uncomfortable and create animosity through a blaming process. With that said, some clients feel they need to know, or need their spouse to know, why the marriage has broken down and to feel heard.
"The end of fault-based divorces should shorten the legal process where there is no blame to be placed and may also ease the hostility that can often arise when married couples separate. Yet it is important to note that although there can be considerable distress experienced when a marriage ends, there can be just as much distress when a client feels they haven't had their chance to have their say.
"The introduction of joint divorces will be interesting, particularly when you consider the numerous clients who feel their petition for divorce won't be contested end up facing a challenge from their spouse. However, a united front may well encourage better family relationships following the divorce and therefore lessen any negative impact on children.
"Whether blame is or isn't to be placed, divorce proceedings will remain a difficult time for clients but it is hoped the new legislation will offer more promising futures for families."
For professional advice regarding divorce, contact Robert Williams on 01639 640152 or email robert.williams@hutchinsonthomas.com