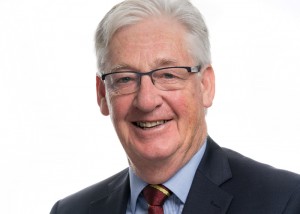 As the excitement builds ahead of the Rugby World Cup in September, one Welsh lawyer is preparing to travel to the spectacle and play a critical role at the tournament.
Roger Morris, partner and notary public with law firm Hutchinson Thomas, which has offices in Swansea and Neath, will travel to the event as an independent judicial officer. He will play a crucial role in determining the length of bans and sanctions the stars of world rugby could face.
A focus on player welfare in recent years has fundamentally changed the parameters of certain parts of the game, notably the consequences of dangerous play, especially where contact is made with the head.
But sitting behind referees' decisions is also the critical disciplinary process that takes place in the days after an incident and which determines the sanctions and bans players face after they have been cited.
This is driven by independent judicial officers appointed by World Rugby. Every time a player receives a red card or is cited for foul play a three-person disciplinary panel is appointed which comprises a lawyer chair and two individuals with experience of the modern professional game either as player, coach or referee. This is an important departure from previous World Cups when a single judicial officer would oversee proceedings.
Morris has been involved in the disciplinary process in rugby for more than 20 years and will be in Japan for the last three weeks of the tournament. This will be his second World Cup. He says he feels having a robust and independent judicial process is important for the game.
Morris said: "I've been involved for the best part of 20 years and this will be my second World Cup. Discipline and its connotations for player welfare and the integrity of the game is an important facet of rugby significant to all the games stakeholders.
"Within this, an important element of the team of legal chairs is our independence. We are all experienced, senior lawyers with a background in rugby and importantly, volunteers who have no direct links to our various unions.
"My involvement has been an immensely satisfying way of putting something back into the game with which I have been obsessed for as long as I can remember."
Hutchinson Thomas has a long history of supplying individuals. Three other partners from the firm – Simon Thomas, Rhian Williams and Robert Williams – have also served as independent judicial officers in regional, European and international rugby games not involving their home teams (Ospreys, Wales or Lions).
The firm was heavily involved in one of rugby's most infamous scandals: the 'Bloodgate' case where players, coaching staff and a doctor from English Premiership club Harlequins were alleged to have colluded to fake a blood injury (to get a specialist kicker back on the field) using a blood capsule during a Heineken Cup quarter final against Leinster.
That affair stunned and tarnished World Rugby and resulted in a three-year ban for director of rugby Dean Richards and a fine of over £250,000 for Harlequins – and the enquiry was overseen by Hutchinson Thomas partner Robert Williams.